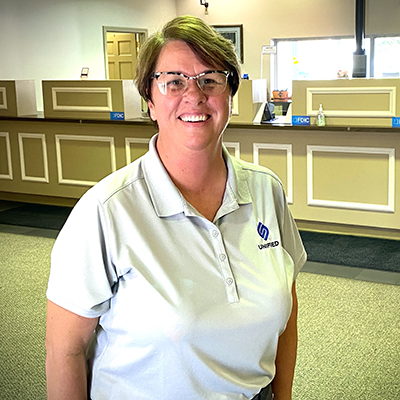 Jody Clark
Personal Banker
NMLS# 1739865
Phone: 330.364.8888 x2087
E-mail: JClark@UnifiedBank.com
Fax: 330.364.2884
Jody Clark is a Personal Banker with Unified Bank serving customers out of our Unified Dover, Strasburg and New Philadelphia Banking Centers. Jody has been with Unified for going on nine years.
"If you are looking for a loan, I would like to talk with you. Unified would like to help with your loan needs."
Resources:


Interested in a Credit Card?
We offer Business & Consumer Credit Cards.
Learn More!
Open Your Account Online
Freedom Checking & Savings Accounts
Learn More!
Freedom Debit Mastercard
No ATM Fees Nationwide. Now that's Freedom!
Learn More!